Purpose
The Bill Sproul Award and Honorary ICMCTF lectureship is to recognize the achievements of a mid-career researcher who has made outstanding scientific and/or technological contributions in areas of interest to the Advanced Surface Engineering Division (ASED) of the AVS, with emphasis in the fields of surface engineering, thin films, and related topics.
2020 Bill Sproul Award and Honorary Lecture Recipient  – Jochen M. Schneider, Materials Chemistry, RWTH Aachen University, Germany
Biography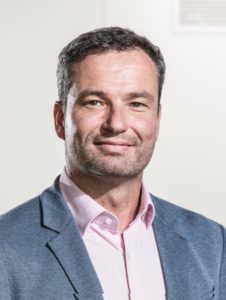 Jochen M. Schneider, Ph.D., is Chair and Professor of Materials Chemistry at RWTH Aachen University, Germany. Formerly at Linköping University, Sweden, Berkeley National Laboratories, USA, and Northwestern University, USA, Jochen received his Ph.D. degree in surface engineering from Hull University, UK. His thesis advisors were Allan Matthews and Bill Sproul. His research interest is thin film materials science. During the last 18 years in Aachen his research focus was Quantum-mechanically guided design of materials with tailored elastic properties and phase stability. Recently he initiated research into self-reporting materials.
Jochen has been awarded the Sofya Kovalevskaya Prize by the Alexander von Humboldt Foundation for excellence in thin film materials science research in 2001 and was named a Fellow of American Vacuum Society (AVS) in 2013. In 2015 he was appointed as Max Planck Fellow and was named RWTH Fellow. He was a guest Professor in Materials Chemistry and Materials Physics at Uppsala University, Sweden, and has recently joined Jinn Chu's team as guest Professor at National Taiwan University of Science and Technology. Furthermore, Jochen is serving as member on the board of Trustees of the Leibniz Institute of Surface Engineering, Leipzig, Germany, and on the Henry Royce Institute Strategic Facilities Advisory Board, Manchester University, UK.
In 2019 Jochen received the teaching award of the faculty for Georesources and Materials Technology at RWTH Aachen University for exemplary didactics and the implementation of progressive teaching methods. Jochen has advised more than 30 Ph.D. students, 64 master students and 22 post-docs. He has published more than 300 papers in refereed journals and presented more than 65 invited lectures at international conferences.
Jochen was engaged in many AVS activities. He served as Advance Surface Engineering (ASED) Executive Committee board member, ASED Chair, ASED long range planning committee chair and member, Surface Engineering Program Chair of the AVS National Meeting, ICMCTF Proceedings Editor and ICMCTF Program and General Chair.
Jochen is active in the Editorial Board of Surface & Coatings Technology (Elsevier) and Scientific Reports (Nature Publishing Group), and serves in the Advisory Board of Journal of Applied Physics (American Institute of Physics).
Abstract
"Are Protective Coatings Predictable? A Mid-Career Assessment"
Jochen M. Schneider, Materials Chemistry, RWTH Aachen University, Germany
TS3-1-WeA
Wednesday, April 28 – 2:40 pm, Pacific Salon 3
Designing the next generation of protective coating materials without utilizing trial and error-based methodologies requires truly predictive computational approaches. Important design criteria for crystalline and amorphous protective coating materials are the mechanical behavior as well as thermal and chemical stability.
In this talk an effort is made to describe the good, the bad and the ugly of our predictive capabilities: Which predictions have been validated experimentally, and which experimental data cannot be described theoretically. Implications for future design efforts will be discussed.