ICMCTF 2022 Health & Safety Plan
To promote the safety of everyone attending ICMCTF, we will monitor the guidance and requirements of the Centers for Disease Control (CDC), State of California, the California Department of Public Health, and the World Health Organization regarding COVID-19 safety practices. Therefore, this Attendee Safety Plan may change from time to time through the last day of ICMCTF in May 2022.
The
Town & Country Resort Hotel and Convention Center
is the official conference hotel for ICMCTF 2022
Located in the heart of San Diego's Mission Valley, where nostalgic charm mixes with modern amenities to create one-of-a-kind experiences.
A limited number of rooms will be held until April 19, 2022.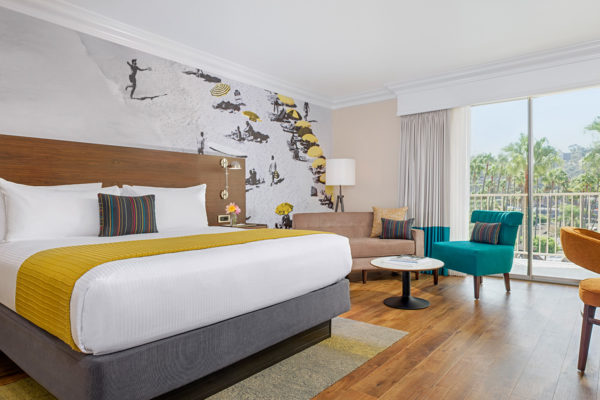 Conference Reservation Rates & Policies
Rate Type
Single/Double
Triple
Quad
Attendee*+
$195
$215
$230
Student*+
$139
$159
$179
Government*+
US Government per diem rates (must show proper government ID at Check-in) the government rates posted are the prevailing room rates available, plus applicable taxes and hotel service fee
*Conference Registration Discount Policy:
In order to receive the discounted  Conference Registration Fee you must provide an ICMCTF 2022 Housing Block Confirmation Number from the Town & Country when you register. Confirmation numbers will be verified by the hotel—Any confirmations found to be outside of the ICMCTF 2022 Housing Block or from a third party agent will be readjusted to the no hotel registration fee and you will be invoiced the difference.
Conference Cancellation Policy
To receive a full refund for a Conference cancellation, less a $100 re-processing fee (or a $50 re-processing fee for a Student cancellation), an Early-registrant must notify Heather Korff, 530-896-0477, heather@avs.org prior to May 2, 2022.
Regular Early-registration cancellations after May 2, 2022, will be refunded less a $300.00 re-processing fee; One Day Conference Early-registrants will be assessed a $100 re-processing fee.
Student Early-registration cancellations after May 2, 2022, will be refunded less a $100.00 re-processing fee.
Reserving a Hotel Room
Passkey online reservations system is the preferred reservation method. Improper solicitation of hotel reservations from any company or housing provider other than Passkey is not approved by ICMCTF. All reservations should be made early to guarantee availability. Please note that once the reserved/contracted room block is full, the room availability and rate are not guaranteed and may vary.
Reserve Online by April 19, 2022
To reserve online please use the button below. Note: reservations booked directly from the Town & Country Hotel Website or a third party agent are not eligible for the conference registration discounted rates and are considered outside of the ICMCTF 2022 Housing Block.
Reserve by Phone by April 19, 2022
Call 619-291-7131 or 800-772-8527. Please make sure to request a room in the ICMCTF 2022 Housing Block.
Hotel Policies & Fees
Hotel Deposit Policy: The hotel requires a one-night deposit via credit card to hold your room.
Hotel Cancellation Policy: Reservations must be canceled or modified at least 48 hours prior to arrival, by 6 p.m., to avoid a one night charge.
+Hotel Services Fees: Town and Country has introduced a Hotel Services Fee of $5 per day for all reservations and includes the following services. There is also a $3 daily maid fee.
In-room Wi-Fi
Guest room local phone calls (619 and 858 area codes) and 800 calls
Unlimited access to the Fitness Center
Hotel Parking Fee: The hotel room rates do not include applicable taxes or parking fee $8 per day for ICMCTF hotel guests with in/out privileges. Local ICMCTF participants will be charged a $10 per night with in/out privileges (attendee must show paper receipt from earlier in day).

San Diego International Airport
3225 North Harbor Drive
San Diego, C92101 USA
Ride Share:
 Several companies offer Ride Share services at San Diego International Airport. Travelers can be dropped off curbside at both Terminal 1 and Terminal 2. 
Designated Ride Share passenger pickup locations are listed below:
Terminal 1: Exit baggage claim via the escalators, walk across the Sky Bridge toward Ground Transportation and the parking lot, exit down the escalators toward the parking lot, and turn right to the Transportation Plaza. Use crosswalk to the third lane for pick-up area. See signage for assistance.
Terminal 2: Upon exiting baggage claim, use main crosswalk to Transportation Plaza. Ridesharing pick-up is located in the second lane on the right. See signage for assistance.
TAXI 
fares from the airport average approximately $25 each way.
TROLLEY SERVICE: The trolley line stop is located directly behind the Town and Country Hotel between the hotel parking lot and the Fashion Valley shopping mall. One way, round trip, all day, senior, and multiple day passes can be purchased from the vending machines located on the trolley platform.
SAN DIEGO TOURISM AUTHORITY: Additional information concerning San Diego and the surrounding areas can be found by contacting the visitor's bureau at 1-619-232-3101 or www.sandiego.org.